Gibraltar Magazine (September Issue) - Sudoe UOG and Delegates attend ClimACT meeting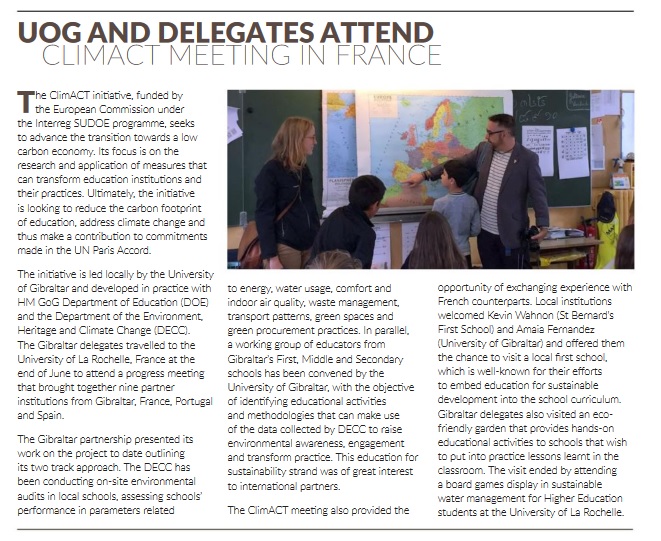 Pictures of Mr Charles Collinson (Director European Programmes) giving a presentation on EU Funding to the Rotary Club of Gibraltar (15/08/17), can be found.Here
Gibraltar Chronicle (10/08/17) - Sudoe ClimACT meeting attended by the Gibraltar University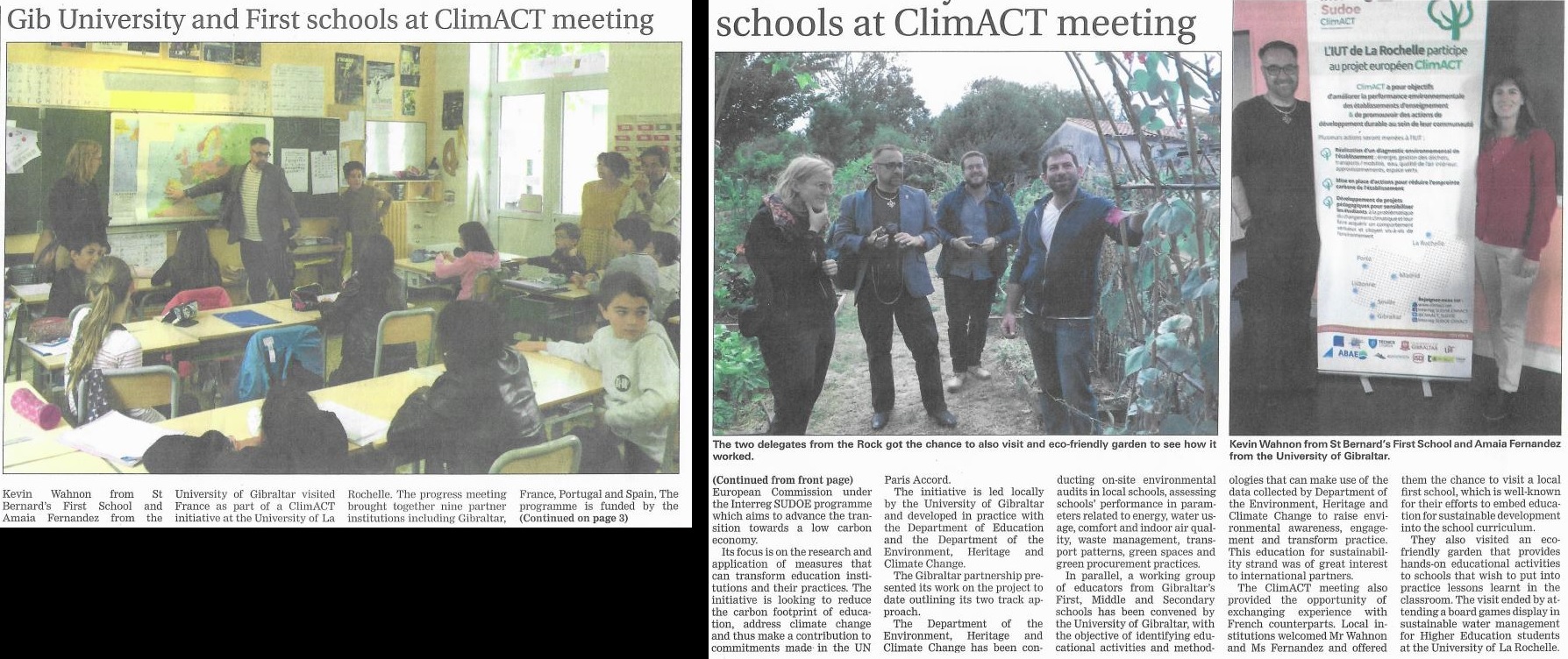 Gibraltar Chronicle (03/08/17) - opening of Just4Kidz play park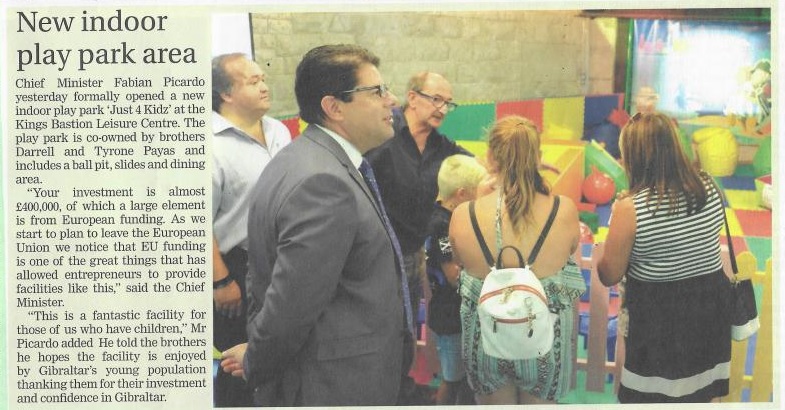 GBC Newswatch (03/08/17) - report on the opening of Just4Kidz play park within the Rock Bastion.
GBC Newswatch (12/04/17) - Interview with Director of EU Programs Charles Collinson, "EU FUNDING STILL AVAILABLE FOR THOSE ELIGIBLE"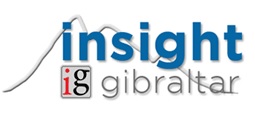 Gibraltar Insight Magazine (July 17 - Page 10) - "EU Funding For Gibraltar Businesses Still Available Till March 2019"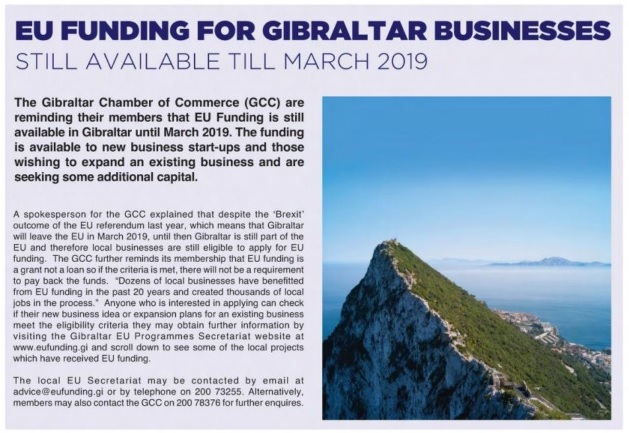 JMC Meeting held in Gibraltar (18/05/17), pictures can be found Here
Gibraltar Chronicle (10/05/17) - Brexit bad for British territories biodiversity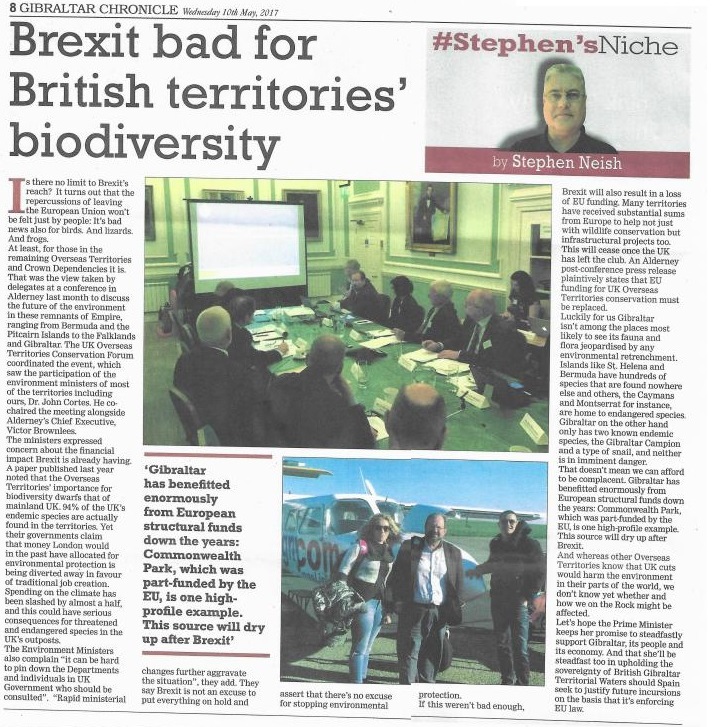 Eco Wave Power storm in Gibraltar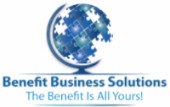 Article on What has "EU Funding in Gibraltar been spent on?"
Gibraltar Chronicle (26/04/17) - Brexit workshop puts focus on citizens' rights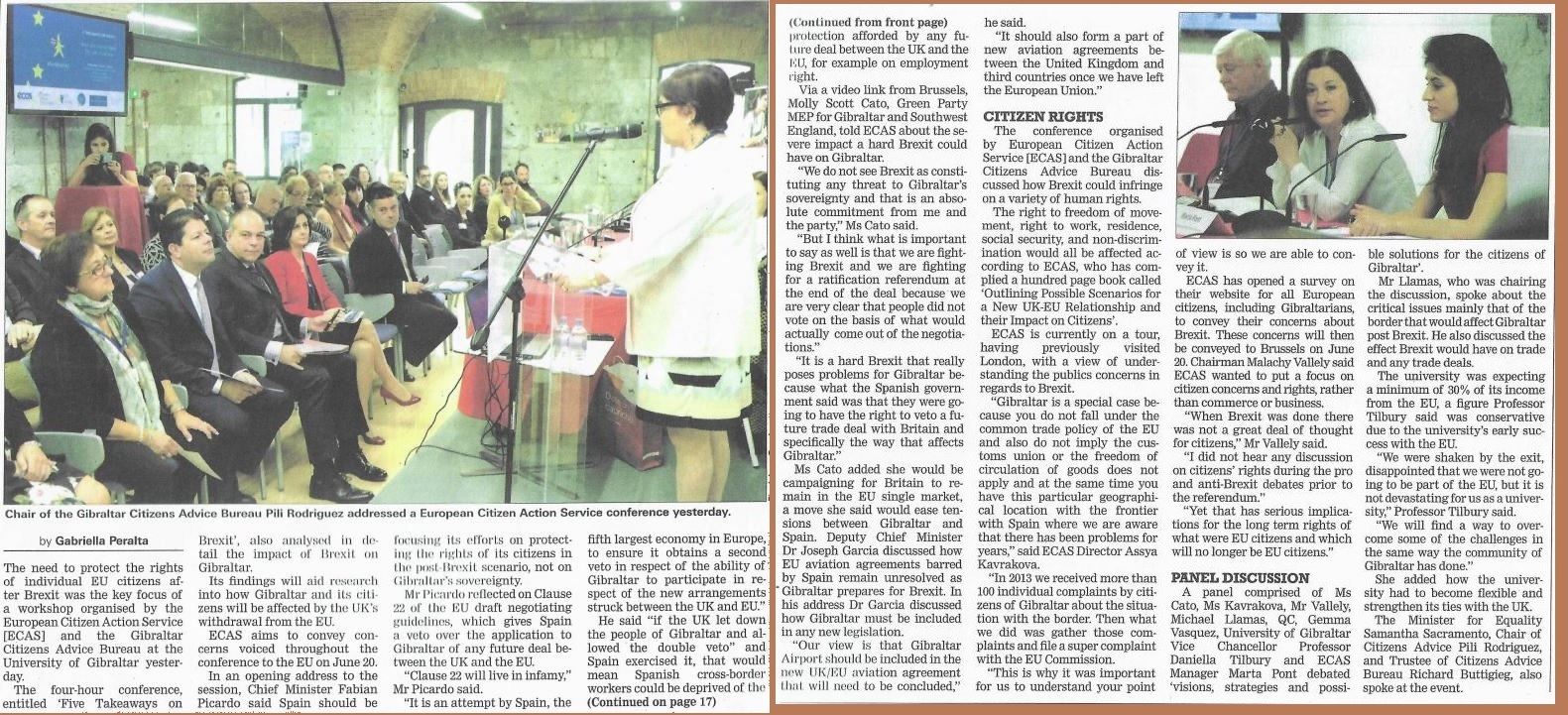 GBC Newswatch (26/04/17) report on the EU workshop after Brexit
GBC Newswatch (24/03/17) report on the EU Representatives visit to Gibraltar
Gibraltar Chronicle (27/03/17) - EU Chiefs should visit to understand Gibraltar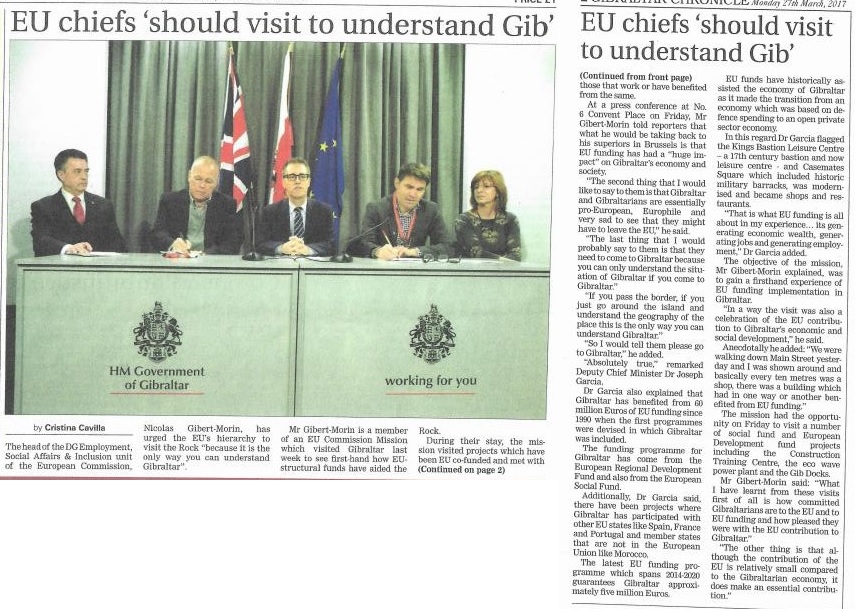 Gibraltar Panorama (27/03/17) Top EU visitor 'hopes' for good Gibraltar EU deal.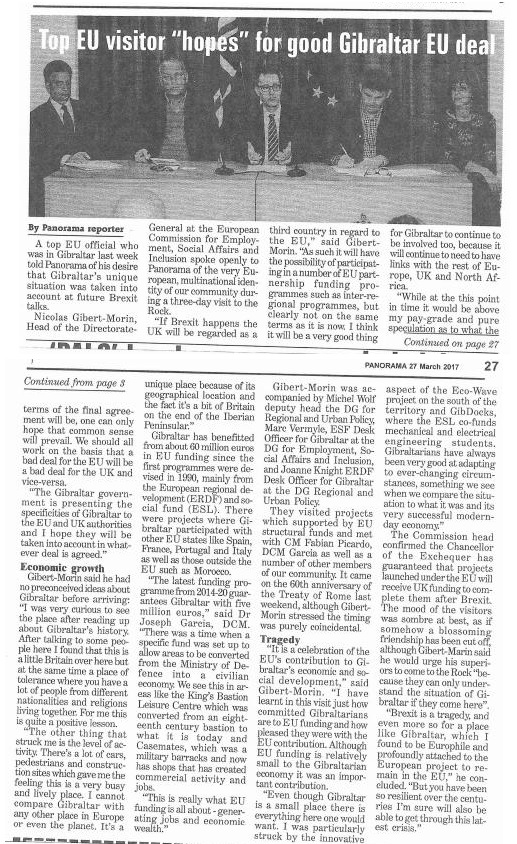 Gibraltar Chronicle (23/03/17) - EU Commission on a mission to Gibraltar.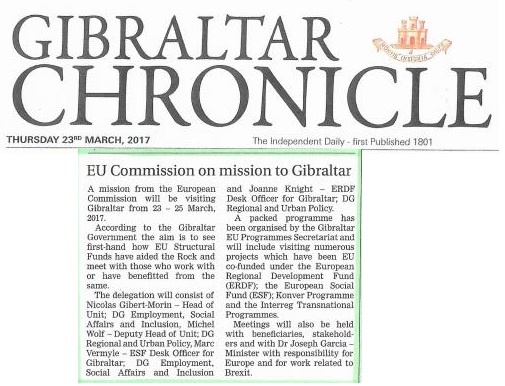 Gibraltar Panorama (23/03/17) Article on the EU Commission visiting Gibraltar to view ESF and ERDF Projects.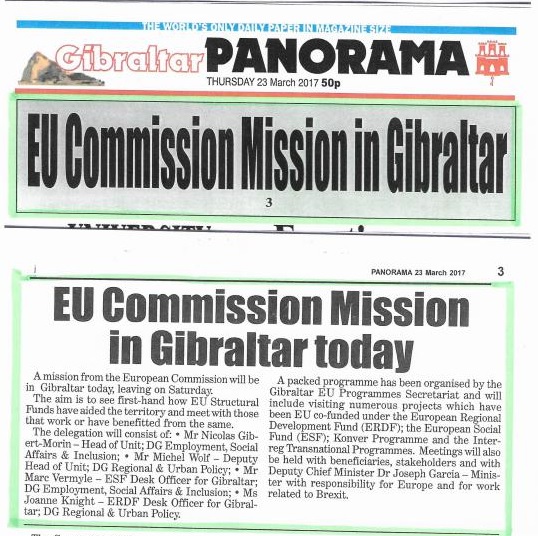 GBC Newswatch (22/03/17) presentation on EU Representatives visiting Gibraltar to view the European Structural Fund projects…
GBC Newswatch (23/02/17) presentation on the MetalRok Recycling Shredder opening ceremony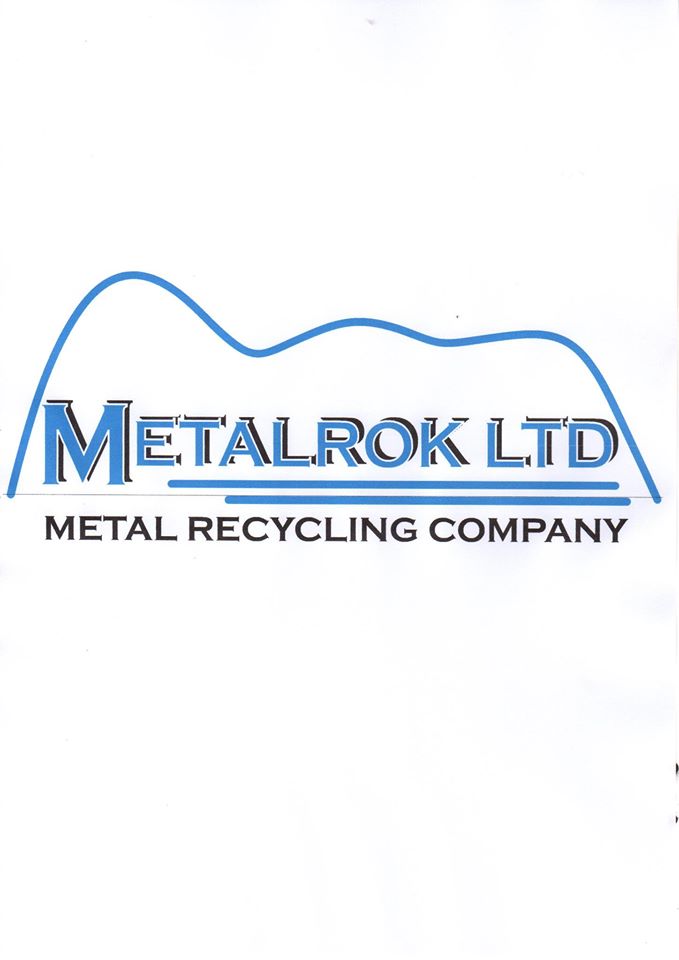 MetalRok Ltd shredder being used during the opening ceremony.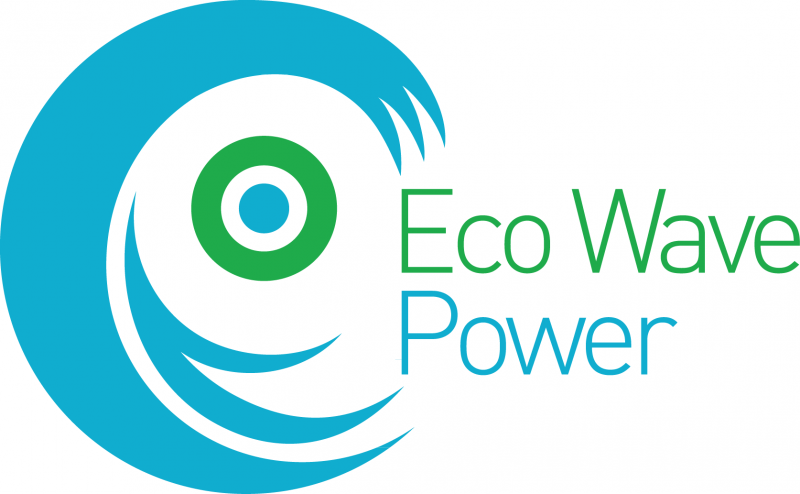 Article on Eco Wave Power turns wave power into electricity featured in Wired Magazine (January 2017)
GBC Newswatch (29/11/16) presentation on EU Funding still being available.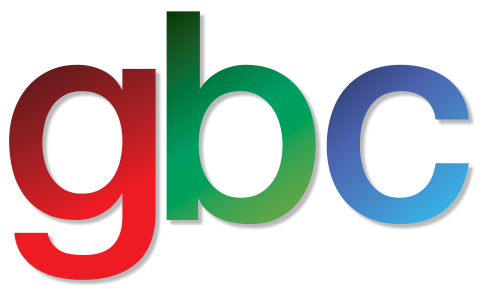 Please read the GBC article (published 29/11/16) on Gibraltar still able to apply for EU funding until UK formally leaves the EU

Please read the Gibraltar Chronicle article (published 30/11/16) on Gib at UK EU Structural Funds meetings

Please read the Your Gibraltar TV article (published 29/11/16) on Gibraltar Representation At EU Structural Funds Meetings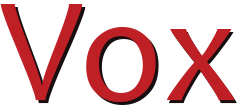 Please read the Vox (Gibraltar) article (published 29/11/16) on EU Structural Funds Meetings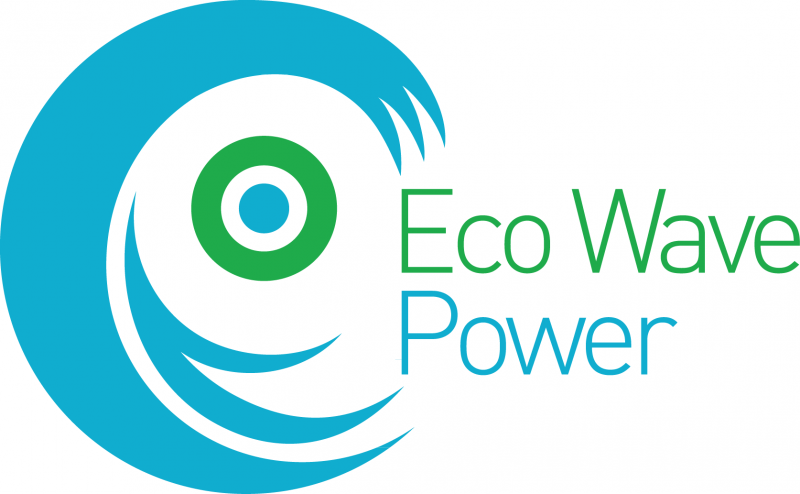 The updated EcoWave Power Website with the report on the Gibraltar Project

EcoWave Power won an international competition as one of the best energy projects, which can be read here EcoWave Power was recognised along with 15 additional companies for its Sustainable Entrepreneurship by the SEA AWARD in Vienna. The Sea (Sustainable Entrepreneurship) Awards are endorsed by former US President Mr. Barack Obama, which can be read here EcoWave Power prepared a short video clip that was prepared by the Sea Award staff and presented during the impressive Gala, which can be seen on YouTube


Please read the Gibraltar Chronicle report on EU funds 'there for the taking' before Brexit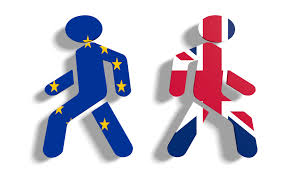 The latest on Brexit with regards to the EU Programmes Secretariat (Gibraltar) can be seen in the below Adobe file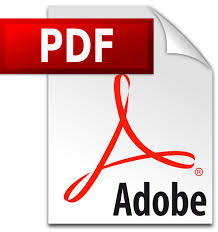 BREXIT MEETINGS.pdf
&nbsp&nbsp&nbsp
PMC Meeting held in Gibraltar, pictures can be found Here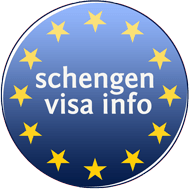 Schengen Area: History, Facts and Benefits Please see the Schengen website